Nimm was du bruchsch
01.09.13
Es gibt eine neues "Nimm was du bruchsch" Plakat! Unter Pischtuka könnt ihr es euch von meiner Homepage runterladen. Für meine zahlreichen Leserinnen und Leser aus Deutschland habe ich auch eine deutsche Version kreiert. Druckt Euch das Plakat aus, schneidet die Zettel entlang der gestrichelten Linie ein und seid kreativ beim Aufhängen. Überrascht eure Kollegen bei der Arbeit, eure Freunde und Familie. Hängt "Nimm was du brauchst" in die Cafeteria, in den Aufzug, ins Klo, an eure Tür, in den Eingang etc.etc.etc. Ziel ist, etwas Spass und Freude zu verbreiten, dem einen oder anderen ein Lächeln ins Gesicht zu zaubern. Reisst das Zettelchen das ihr braucht ab und steckt es fest in die Hosentasche oder legt es vor euch auf den Tisch, vielleicht geht das Gewünschte in Erfüllung?
Natürlich würde ich mich über Fotos und Berichte von euren "Aufhängorten" sehr sehr Freuen!!!!
Ich mache mit bei einer Ausschreibung von meiner Lieblings Bloggerin aus Amerika, Kelly Rae Roberts. Natürlich weiss ich noch nicht, ob sie mein Mail veröffentlicht, aber geschickt habe ich es mal. Anbei seht Ihr mein Mail. Fall Ihr Lust habt, die Homepage von Kelly Rae zu lesen, geht auf www.kellyraeroberts.com. Ihre Blog Einträge finde ich sehr motivierend.
Dear Kelly Rae
Already a year ago I designed a kindness mission sign following your example. Of course, since I live in Switzerland, I had to do it in swiss german.
I also made postcards. Here it is:
It says: Happyness, faith, courage, love, peace, hope, sunshine, luck, sleep, friendship, silence, strength
It was fun to hang the signs in different places. Some of my friends helped me and we were quite courious whitch word people would take first. I had one hanging outside my studio and every morning I first would go and have a look whats missing. I think the most favorite ones are luck, faith, sleep and love. But all the others were picked aswell. Here some Photos: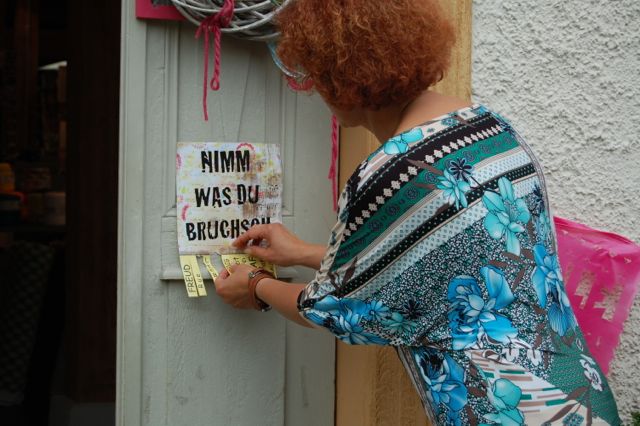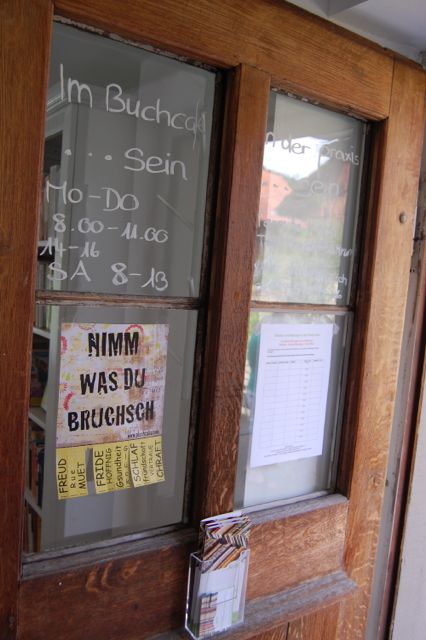 Recently I designed a new sign.
It says: serenity, silence, more summer, wishing table, ease, getaway car, new friends, comfort, exercise, a miracle, warmth. I'm already very courious how the reactions are going to be. People can download the signs from my homepage also in high German.
Thnak you Kelly Rae for the huge inspiration an generosity you give me and all your readers. I love to read your blog.
That's me in my studio with our baby cat called "Pascha" and his favorite soft toy. I live in an old farmhouse in the countryside, half an hour away from Zurich together with my husband, our two teenagers and two cats. My studio is in the house where in earlier times the barn used to be. I give workshops in pottery and I sell my own ceramics on markets and exhibitions. I also createt and wrote two books to encourage adults and kids to work with clay. The second one is published the coming september. I'm extremely lucky and happy, that I can do what I love. Shortly I took the step, opening my online shop.
http://www.etsy.com/shop/leonhardtceramics
I like to take nice fotos of my ceramics. This is a fruit colander. Our garden ist my photostudio.
This is how it looks in my workshops. My goal is to help people finding their own creativ self and it makes me very happy to see it happen.
My homepage is called:
www.leonhardtceramics.com
. There you can find the gallery, the workshop program, the shop and my blog. I write about everyday life as a studio potter.
I hope all possibilitarians in this world can reach the hearts of many people no matter what country they live in, no matter what language they speek! Don't be afraid to follow your passion!
Warm regards from Switzerland!
Lisa